What matters most to us:
The happiness of our customers
Here we share what they say about our phone answering service: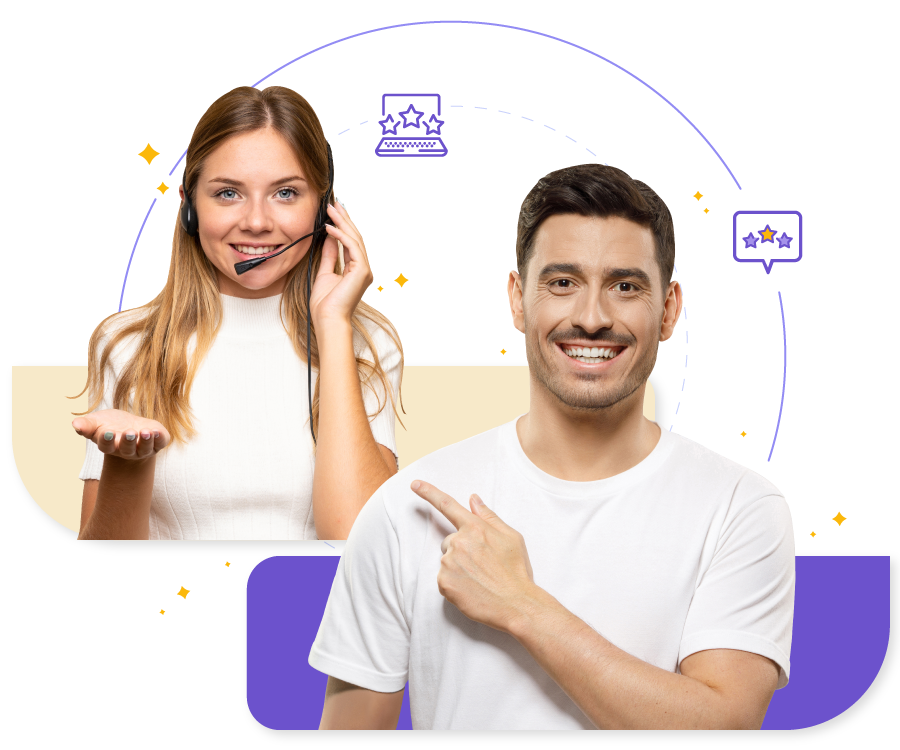 TESTIMONIALS
What our customers say
"Easybee services are top level, and customer service is superior to any call center I've ever experienced. Definitely the best service at the best price."
"Phenomenal service, great Easybee team, reliable, helpful in every way. Very thankful for all you do!."
"They provide a really good service and they are responsive to our needs as a small company. We would highly recommend them for their service."
"Impressed with personal attention and service, especially accommodating my last minute request for translation services. Gave me peace of mind that my business phone is always answered".
I have been using EasyBee for several months now and have had only a positive experience. I've been impressed with the team's ability to succinctly capture the legal issues my leads and clients are calling about. I receive an email summarizing the reason for the call, and to my relief and delight they have proven to be accurate, reliable and efficient.
"I love my Easybee service. They schedule using my product. I have MS Bookings. Moises Hasbun is an excellent representative and has looked out for my best interests when analyzing my service needs. I have not received complaints from muy clients. This has worked for me and i have used other providers".

THE PROJECT
Call Center Services for Law Firm. Easybee Answering Services is hired by a law firm for bilingual answering services. They attend to both Spanish and English clients for scheduling and answering basic questions.
FEEDBACK:
"They have great customer service." The team's services help the client save a lot of time. Moreover, Easybee Answering Services informs the firm about every call. They are responsive and address all client's issues and questions.
THE REVIEWER

Managing Partner, AG Law Firm
Aleksandra Gontaryuk
Legal
1-10 Employees
New Brunswick, New Jersey

THE PROJECT
Call Center Services for Law Firm
Easybee Answering Services provides ongoing call center services for a trusts and estates law firm.
FEEDBACK:
"The team is very responsive."
Despite the challenging aspects, Easybee Answering Services' services have been great overall and resolve all issues immediately. Their workflow was wonderful.
THE REVIEWER

Principal Attorney, Providence Legal, P.A.
Clara Delgado Rossell
Legal
1-10 Employees
Coral Gables, Florida


THE PROJECT
Easybee Answering Services was hired by a law firm for voice and messaging services. They are in charge of calls, messages, and schedule consultations from the firm's current and potential clients 24/7.
FEEDBACK:
The team's responsiveness and willingness to go above and beyond when it comes to reporting calls in detail continue to make the vendor-client partnership run smoothly. The customers appreciate their helpfulness in whatever concerns.
THE REVIEWER

Attorney & Owner, Richards Legal LLC
Hashi Richards
Legal
1-10 Employees
Orlando, Florida
Get notified on new insights
Be the first to know about new business growth insights to build or refine your operation with our knowledge of today's industry.